Good morning, Echo Lake, wherever you are!
Grandpa and Liam at the lake,
August 2009

The recipe list is right there, and there's a family history page.
Sr. Michaela, 1920-2006.
---
In any of the following pages: click on the smaller image to view the larger image.
---
2014
Annual Endwell Garden Club Gala Luncheon, July 9, 2014

In which we enjoy a catered lunch thanks to the ladies of the Endwell United Methodist Church, followed by demonstration and lessons on creating flower arrangements by the man who owns the Renaissance Florist and Garden in Binghamton.
---
To be reinstated ... 2011
To be added for the first time ... 2012, 2013
2011
Echo Lake Summer 2011 (125 pictures)

And a really great time was had by all ... 3 pictures by Ella, 8 by Lara, 114 by Marianne
---
2010
Austria and Germany 2010: A Baptism, A Wedding Anniversary, Four Birthdays and a Funeral

Top 12 photos in Austria and Germany, May and June, 2010 (12 photos)

And the "Top 200" broken up into 7 webpages -

Mostly Neufahrn (27 photos)
Snails, Swarowski and Creches (20 photos)
Kirchberg Days (25 photos)
Confirmation, Corpus Christe and Inductees into Austrian Army (7 photos)
So Long Farewell (20 photos)

The following sections will be put up over the next week. --Marianne, June 12, 2010
Funeral (54 photos)
Baptism (86 photos)

Three videos by Linda, and the Dad Memorial Movie

Kids and Salzburg- Lara on bike ... girls lip syncing ... Bells of Salzburg Dom ... Liam (4 mins 48 secs)
5 Koeniger cousins - Finlay, Helena, Aggie, Lara and Ella dancing around on June 3 during Corpus Christi celebration in Kirchberg, Austria (1 min 8 secs)
Whatca doing, Liam?

Dad Memorial Movie The display is tiny, about 1 inch square, so you might prefer to watch this from the DVD, either on a TV or by putting the DVD in your computer and letting it play. (12 minutes)

Happy Mother's Day, May 9, 2010

In lieu of flowers ... here's many flowers via the web. These are my favorite pictures from mid-April to now. (46 pictures)

UCCE Master Gardeners of Santa Clara County on Facebook

Spring Garden Market, April 10, 2010

Annual plant sale and fair put on by UCCE Master Gardeners of Santa Clara County - the master gardener web site is http://mastergardeners.org/scc.html (53 pictures)

Easter flowers, April 2010

Flowers coming into bloom at home and in the neighborhood (33 pictures)

Mike in Austria, February 2010

As seen in email & on facebook ... the collection together again at last, on troutlily! (9 pictures)

Texans in California, March 2010

Yosemite and San Francisco (41 pictures)

A blue frog invaded the garden, and other tales Jan-Mar 2010. (15 pictures)

Just some ideas for when Mike et al come to California ...

2009

Winter at Echo Lake and Advent in Kirchberg (1 Echo Lake picture; 6 Kirchberg pictures)

From Marcia and Mali, respectively. November and December 2009.

Four videos of the kids on YouTube (4 videos)

Ella dancing as Star: 1 min 42 sec. Lara as "Kind 1" with a line to recite: 3 mins. Liam chowing down on cardboard oops I mean some gross baby food: 22 secs. Liam rolling over: 20 secs. The videos are embedded on the troutlily webpage and I also have links in case the embedding doesn't work for you. Let me know of any snafus.

Year in Pictures, December 2009
These are not representative but just a couple here and there that I liked. (23 pictures)

16 swans at the lake and Lara in a great new dirndl and Mike on a ski weekend (7 pictures)

Marianne gets a haircut (6 pictures, self portraits ...)

K-Kids!

Almabtrieb, balloons, horse riding and general adorableness (11 pictures)

A priceless picture of Lara & Rachel, and the family picture by the lake (2 pictures)

Kathi, Rainer, Lara, Ella and Liam are settling in and having fun - Mali and Gerhard visit. (33 pictures)

Liam Thomas Koeniger was born on Thursday, May 28, 2009. (5 pictures)

Multimedia presentation of the scallop release! All the newspaper articles are reprinted along with the photos & videos. Go Linda! (5 pictures, links to photo gallery of 12 pictures, two short videos)

Thanks Kathi (answered my plea for sustenance the day after that woman moved out). (2 pictures)

A random collection of memories form 2009. Sent as glossy macbook to Mom. Which got lost in fedex neverneverland. I ordered a second one to send to Mom. (74 pictures)

The multicolored nasturtium of 2009 have been variegated nasturtium in 2009. (23 pictures)

The willow stick I stuck in the ground grew to 18' in two years and HAD TO GO before it invaded all my water pipes. Its roots will just get any water they can from anywhere. You don't want willows close to the pipes. Of course now I have a tiny curly willow at the other end of the garden. Maybe it will be a dwarf willow!!! ho ho ho. (There is no such thing.) (7 pictures)

It's been 2 1/2 years at 333 Kingsley and some things are starting to look garden-esque although truth to tell the whole thing is random, eccentric and its beauty is in the eye of the beholder. (20 pictures)

The fist community garden plot (4 vegetable beds, a flower bed and a succulent rock garden) (14 pictures)

Nicole is about 2 1/2 and a friendly next door neighbor who drops by often to help me by cooking, cleaning, watering the garden, putting plants in the ground, and so on, in ways that her imagination suggests to her! She is good about not using the computer now. Oh, she's also good at loading the washing machine and setting it going (for real on that one. Also she did plant a thyme plant once on her own.) Great kid. (18 pictures)

Wonderful to visit the snow and Lara and Ella and Kathi and Rainer (26 pictures)

(10 pictures)
---
2008
Mike skiing in Alyeska, Alaska

Mike takes advantage of a business trip to hit the slopes (2 pictures)

Thanksgiving at Panama City Beach, Florida

Before Thanksgiving - playing on the beach and in the condo (45 pictures)
Best picks from this week-long visit with the family
There might be some overlap with the link above. (52 pictures)

Mike's November ride for Multiple Schlerosis fundraiser - 500 miles? Some improbable number of miles! (3 pictures)

Catching up with photos from this year in Austria: Schwester Augusta visits; Mom and Dad travel to Austria; Pfarrhof Celebration and Obama Celebration (16 pictures)

A few pictures of the Sarasota area and the Dattoli Center(7 pictures)

The boat has been resurrected!

Gary restored the boat damaged by fire. (October 5; 6 pictures)

Ciao - not farewell - to Vyna, heading north ... to escape the election?

Sumptuous banquet at Miriam's (October 4; 15 pictures)

Gardens in mid-summer

Eating from the Garden (August 17; 6 pictures)
Orlaya and friends in home garden (August 1; 7 pictures)
Gnomes and spiders and marigolds, oh my! (July 30; 14 pictures)

Garden catch-up: July 21, 2008

Home garden on July 21 (10 pictures)
f53 on July 21 (5 pictures)
f53 at the end of June (6 pictures)

Upstate New York, July 2008

The Great Bonfire of 2008, 14 pictures
Echo Lake, 24 pictures
Clifton Park Version I by Marianne, 14 pictures
Clifton Park Version II from Mom's camera (photographers vary), 43 pictures
Clifton Park Version III from Kathi's camera (photographers vary), 29 pictures

The Tempest, June 29

Two takes on Shakespeare's play, for a Stanford class performance (34 pictures)

Jardin Chez Ian et Nika, June 21

Solstice Status for the European Travelers' nostalgia and yearning and curiosity (7 pictures)

Wildflowers gone wild, June 23

The wildflowers are taking over. (14 pictures)

Home is where the comfy chairs are, June 23

Just a few pictures of the back patio (11 pictures)

Community Garden Plot, February 3 - June 8, 2008

This shows the evolution ... 41 pictures

Visiting Clifton Park, May 12-22, 2008

The last few days - May 18-22
I settled down and didn't deluge the kids with as many popping flashing lights (58 photos)

Le Party
Noon - dusk chez Koeniger ... then the movable feast shifted a few houses down to Fiona and Steve's where merriment reigned well past midnight (28 photos)
Keeping an eye on the kids is a lot of fun (20 photos)

May 14-16 in Clifton Park

Racing along the driveway, hide and seek, painting Puff the Magic Dragon and braving the scary forest to find the swings, all in princess high heels (84 photos)

The first in the 2008 series of family cameos!

Gerhard & Mike looking good; ditto Koenigers; Ella looking tall! (3 photos)
2007
Mom and Dad visit for two weeks - flower arranging, tree decorating, cookie making, and many home projects! (116 photos)

Christmas LED lights - half-price, November 17, 2007

The Palo Alto hardware stores are selling LED Christmas lights for half-price (so about $5 or $6 per 20' string - details vary - see the web page for details) (9 pictures)

Upstate NY, August and September

Visiting Mary and Orley, and a great weekend with the kids!

Two Witches: Henry and the Bad Witch of the South, October 15, 2007

Nika and Ian built two witches. They adorn the front path to my front door. (4 pictures)

Furniture! September 26, 2007

I was just looking for some sort of groovy bed on craigslist, and accidentally stumbled across a fabulous 5-piece 1930s bedroom set. (12 pictures)

The Amazing Dock Project, summertime (and the living was not THAT easy ...)

Linda, Dad and Darrin accomplish the feat in 5 days (10 pictures, taken by Mom)

Day's Market and Day's Cottages ... these are photos I snitched from their web site, to plant the idea that maybe some summer we can convene there. (2 pictures)

California Cottage Garden

The first six months. Eclectic, and everything's an experiment. (52 pictures)
Update from late June - orlaya now in full bloom (6 pictures)
Datura metel, August through September, 2007 (7 pictures)

Before the clearcut, March 21

Fences considered harmful. (2 pictures) It's a long story, look for it in short story format appearing on a web site near you in the near future ...

Cameos of the kids and their attendants (61 pictures)

---

Marine Ecology YouTube video, March 14

Linda explains sea grass monitoring! (1 1/2 minute video)

---

New hot tub in Panama City! March 11

Dad and Linda and Gary luxuriate (3 pictures)

---

Lara and Ella clapping! March 6 (34 second video)

---

Mike - the choice! March 6

Let Mike know which shot you like, for a head crop. And let me know if you'd like to see larger versions of these. There are in fact 3 pictures - there are multiple shots per picture, as it were.

Winter in upstate New York

Snow finally arrived (3 pictures)

Ella and Lara in early January

The kids race around the house, and sometimes sleep ... (7 pictures)

Lara gets Ella to laugh - January 20 (55 second video)

---

Ella the Elf, Christmas 2006

This pictures of Ella were taken by neighbor Eileen - strictly speaking, I should file these under "2006" ... (7 pictures)

---

She did it! Ella stands on sleeper. January 19, 2007 (Click on the big arrow in the center of the picture to play the video) (44 second video)

Ella trying to stand, January 18 - Click on the arrow in the center of the picture

A YouTube video of the baby becoming a toddler. (38 second video)

January Freeze, January 14

In mid-January, it got down to around 26 for several nights running. Susan covered her garden for the duration. (1 picture)

from the cardboard boxes in storage, January 10 (1 picture)

The 333 Chronicles, 2007 edition

California Cottage Garden - The first six months, January to June. Eclectic, and everything's an experiment. (52 pictures) And - an update from June 27 (6 pictures).
Mardi Gras 2007 (19 pictures)
Japanese arrangement of fruit tree branches, surprisingly blooming! (5 pictures)
Retro patio chairs, the decisions! (6 pictures)
---
2006
A privacy fence grows in Panama City

Gary designed and built a great fence along one length of their property

Clifton Park in December

Marianne visits Kathi/Rainier/Lara/Ella for a week, nursing broken foot (38 pictures)
and Round 2 (24 pictures)

Adventsingen and beyond, November-December

A few photos from Adventsingen in Ormond Beach. (Send in your pre-Christmas photos and I'll add them here.) (3 pictures)

Or the day after more precisely, November 24 (8 pictures)

Before, during and after Ella's baptism! Clifton Park, October 13-17

We went for a hike on Friday the 13th (22 pictures)
The day of the baptism, October 14 (54 pictures)
The party & the days that followed, October 14-16 (70 pictures)

The 333 Chronicles

Retro patio chairs, the decisions! (6 pictures)
First Christmas - the decorations, December 21 (Happy Solstice) (17 pictures)
After the second month, December 4 (13 pictures)
First month, October 31 (45 pictures)
Move in day, Day Zero, October 3 (17 pictures)

The Road to Monterey Bay Aquarium, September 24

In which we see our heros eating and watching penguins eat (6 pictures)

Welcome Eleonora, September 16

A welcome party for Eleonora, Miriam's new housemate (24 pictures)

The Djerassi Artists Residency Colony

Director's Tour of the Djerassi grounds and installations (36 pictures)

The 33rd Telluride Film Festival

4 golden days of late summer and film, September 1-4 (46 pictures)

Mariannie visits Clifton Park and Echo Lake

Meeting Ella for the first time at Clifton Park, Aug 3-8 (16 pictures)
Journeying with the kids to Echo Lake, Aug 8-14 (90 pictures)
Mom's pictures at Echo Lake (14 pictutes)

June and July, as captured by Kathi (15 pictures)

Kathi captured some fantastic moments in July and August. (13 pictures)

Going blond, July 10

After almost 20 years in California, I wasn't turning into a tall, slender, blond surfer babe, so I decided to take matters into my own hands. (9 pictures)

I was just getting used to Colorado: June, 2006

Marianne's pictures

Mom's pictures

Telluride I, June 20-24 (31 pictures)
Durango-Silverton, June 25 (16 pictures)
Mesa Verde, Arches and Telluride the second go-round, June 26-July 3 (18 pictures) - a bunch of these pictures taken by Dad

Pictures from Linda's visit to Clifton Park (31 pictures)

Stinson Beach to Muir Woods and Back, May 29

12-mile Day (35 pictures)

Lara turns 2, Daddy turns ? - Clifton Park, NY

The Day Before (51 pictures)
The Big Day (69 pictures)
Second Party (100 pictures)
Mother's Day (9 pictures)

Redwoods in Woodside, May 1

A whole bunch of pictures of trees. The pictures basically look very much alike to the untrained eye. The trees are unique though. (14 pictures)

Jasper Ridge, April 29

The MLA alumni association (in the person of Suzanne!) organized a great tour/hike of Stanford's Jasper Ridge Biological Preserve, which is up in Woodside.

mySpace, April 27

The Zen Room has been overlaid with a new office, courtesy IKEA. (6 pictures)

Greek Easter, April 23

The annual party in Los Altos Hills! A feast and a fun reunion and meeting with old and new friends. (20 pictures)

Armando in South Africa Ironman

Crossing the finish line, and with little Riccardo (2 pictures)

Lara in Spring, March-April

Cameos (5 pictures)

Gerhard and Uschi visit San Francisco, April 1

On a whirlwind blueberry tour, the Koenigers take time out for some sightseeing. (9 pictures)

Vegas, March 26-29

Audrey and I spend 3 fabulous days in Las Vegas. (36 pictures)

The roof crumbles a bit at Linda and Gary's.

but a miracle fix is put in. April 2. (4 pictures)

Florida spring. March 16-19. (33 pictures)

The Red Hat Society met for lunch (March 14), and Patrick and Karyn and their little girl Alaya came by on March 18 to celebrate Patrick's birthday with a cake. (6 pictures)

Lara and company visit Florida.

Spring break! March 3-7. (36 pictures)

Stefan visits Florida in February

Stefan tours Florida, and stops by Ormond Beach for a few days (4 pictures)

An impulsive trip to the Getty Center in February. (27 pictures)

Groovy SUV's

SUV's that we might want to rent for the trip to Colorado in June (4 tiny pictures)

Tobago

I visited two little towns in Tobago the first week of the new year.

2005

Mali's photos from October

Mali and Gerhard visited Egelsbach to see everyone (OK, to see Lara). October 17-18. (10 pictures)

Christmas Day at Clifton Park and Palo Alto

Lara gets the hang of opening presents, and good friends get together for a sumptuous dinner at Marianne's. December 25. (20 pictures and 3 video clips)

Christmas Eve at La Selva

I dropped by La Selva for Christmas Eve dinner. December 24. (7 pictures)

Dinner at Kokkari's

Mary Jane invited 5 of us to a wonderful dinner in the city. December 23. (5 pictures)

Christmas Decorations at Ormond Beach

Charlotte of Salzburg decorated the condo. December 23. (18 pictures)

Marianne's Charlie Brown Tree

A Christmas Tree for Laning Chateau. December 17. (6 pictures)

Gondolier and Fairy Child

A few pictures from late summer - of Lara - and a few more from Thanksgiving; by Mom, scanned by mrm. (6 pictures)

Creche Exhibit

A new tradition is founded - an exhibit of creches to go along with the Adventsingen season. Sunday, December 11. (18 pictures)

Adventsingen

The annual concert at Advent season, based on one presented every year in Salzburg. Sunday, December 4. (13 pictures)

Thanksgiving 2005

To the beach house! Saturday, November 19. (30 pictures)
Rainy day. Sunday, November 20. (47 pictures)
Silver-gray day. Monday, November 21. (13 pictures)
Sunny beach day and bike ride. Tuesday, November 22. (40 pictures)
Sunsets. Wednesday, November 23. (11 pictures)
Thanksgiving Swimming. Thursday, November 24 (35 pictures)
Farewell. Friday, November 25. (3 pictures)

The Mueller Family, November 15 compilation

Lorraine inspired me to put together a short photo album page of the Mueller family. Cameos from the past couple years. (22 pictures)

The Tunis Family, November 14

The family is together on the very sad occasion of Cyril's passing. (11 pictures)

Block Party in Laning Chateau, November 5

Meeting the neighbors - great idea! Thanks to Mary and Lisa for doing this. (10 pictures)

Lara in October: in Germany, and as a lion for Halloween

Lara as Space and Shape Traveler in October. Pictures by Kathi. (17 pictures)

Catching up with Lara (May-August)

Lara swims, kicks in the water and chows down! Pictures from May-August; posted October 28, 2005. (8 pictures)

Lara in early Autumn

She talks, she walks, she roots for the Yankees. (3 pictures)

Party! before autumn moves in for real. October 22

A baker's dozen of wonderful friends stopped by also to wish me a happy birthday and (I hope) enjoy the spread. (13 pictures)

jhw's takes. John took some photos. (18 pictures)

Senator Hillary Clinton visits Greene, NY

Mom holds hands with the charismatic politician (2 pictures)

The enormous, ponderous collection from Austria and Italy: September 9-26

Austria, September 9-15, and September 24-26:

Italy, September 17-23:

Flashbacks: pictures from Kurt

Trip to America, July 2005. Includes wonderful pictures of Lara! (9 pictures)
Family Erlmoser (5 pictures)
New Orleans and Echo Lake (6 pictures)
Verena (14 pictures)

Lara and her friends Schuyler and Andrew, early September

The kids play in the sun (5 pictures)

Catching up with July, posted August 25

July in upstate New York, starring Lara, Kurt, Kathi, Lotte und Charlie! (11 pictures)

Top Hat Up For Adoption, August 25

A wonderful black top hat was offered to the first comer, in my building - I grabbed it. It's a bit small for me so you can have it if you can make use of it. (4 pictures)

Palladio Tour Links (for tour Sept 17-24)

A handy collection of 8 links, put together by your Internet obsessive.

Amaryllis Madness! August 20

Amaryllis Bella Donna, or Naked Lady, is springing up all over town. Possibly my favorite flower. On my walk today, I made do with taking many pictures of Naked Ladies instead of picking a couple to bring home. Also, a couple pictures of pretty houses and gardens in Palo Alto. (26 pictures)

A glorious week in Montana and Canada, August 2-8

Lake McDonald to Many Glacier (31 pictures)
Climbing to the glacier (26 pictures)
Wildflowers and rocks (23 pictures)
On to Canada (10 pictures)
The Bear's Hump (9 pictures)
The continental divide (12 pictures)

Quiet dinner at Ian & Nika's (and their parents and uncle ...), July 23

Mostly cameos on a too-hot evening (12 pictures)

Two Houses at Seaside, Florida

Possible rentals for Thanksgiving (28 tiny pictures)

Party at Elizabeth Damron's, June 30

Two long-time friends (3 pictures)

Panama City Sightings, July 18

Angel design discovered by Linda & Gary, who contemplate eBay possibilities. (1 picture)

Viking Lodge "brochure", Telluride, Colorado

A few pictures - of the lodge, and of a 2-bedroom condo (5 pictures)

July 4 week at Echo Lake, July 1-11

Pickerel Derby, July 2 (37 pictures)
Damrons visit, July 3 (9 pictures)
Boat Parade, July 4 (18 pictures)
The Great Wastewater Project, July 5-7 (20 pictures)
Lara Arrives!, July 8 (17 pictures)
Mom's Birthday, July 9 (22 pictures)
A Day of Farewells, July 10 (14 pictures)

Weekend in Santa Barbara Wine Country, June 18-19

A lovely dinner at Miriam's, June 11.

A convocation of family at Miriam's this June evening. (3 pictures)

Lara walking! End of May.

The one-year-old is growing fast. (5 pictures)

Lara's First Birthday, May 12-15

Greek Easter at George and Judy Marcus', May 1

A fabulous time was had by all at this celebration of Easter. (42 pictures)

Passover Seder at Miriam's. April 24

Nine people gathered to bow our heads for freedom. (7 pictures)

Segway Polo, Sunnyvale, April 17

Lots of novices riding Segways and looking dorky, and some action shots of the polo match! (30 pictures)

Susan Dunlap Photography Gallery, April 9

A couple dozen people dropped by to view Susan's beautiful photographs of flowers. (32 pictures)

Le Canoe! early April

Gary launches the just-completed hand-made wooden canoe. (5 pictures)

Lambs and Waterfalls: Yosemite in March

Housesitting two lambs near Yosemite (15 pictures)

Dropping by Susan's studio, February 10

The artist and a few canvasses (11 pictures)

Koeniger Ski Week in Serfaus, Tirol, Austria

While grownups ski, babies rule the resort (23 pictures)
---
2004
Lara's First Christmas

Mexico: one week Atlantic coast, one week Pacific

Thanksgiving and before and beyond (total: 98 pictures)

Lara's first Halloween

Dinner at Brian and Dave's, October 29

Party at Miriam's, October 23

I Love My TV

Two cousins

Advance Birthday Party, October 9

Upstate New York, September 16-26

Arizona, September 1-6

Furby Night, August 27, 2004

An impromptu dinner party, August 17, 2004

Florence, Italy: July 29-August 9, 2004

Lara at 2 1/2 months (roughly), July 27, 2004

Yosemite Work Week, July 11-17, 2004.


Lara at (roughly) 7 weeks: June 28, 2004

Friends at Inverness, Marin: July 2-4, 2004

Big Sur wildness and calmness: June 28 - July 2, 2004

Lara at 5 1/2 weeks, roughly speaking: June 23, 2004

The last pictures from the inaugural three weeks of Lara!

This just in: Mike as biker and as author! May 10 and May 21, 2004.

Week Three in the Life of Lara, May 24-26, 2004

Linda and Gary and Scamperly: May 25

Sunday at the lake: May 23

Clifton Park to Echo Lake: May 21-22

A few pictures from Mom Kathi's collection

The nappies and the naps: May 17-18, 2004
---
2003
Favorites

My favorite pictures from 2003. (47 pictures)

New Year's Eve Party at Michael's

About 25 of us gathered in Milpitas to ring in the new year. Michael is Audrey's boyfriend and also a Zappa freak, so there was a gratifying lot of Zappa music played at the party. (21 pictures)

Christmas Day at La Selva

Cozy dinner enjoyed by a dozen or so of us, December 25 (9 pictures)

Kauai, December 11-18, 2003

Waimea Canyon and Poipu Beach, December 12 (24 pictures)
Kalalau hike, December 13 (19 pictures)
Waterfalls and Beach, December 14 (18 pictures)
Pilohale Beach, December 16 (14 pictures)
Helicopter Ride, December 17 (35 pictures)


MoveOn.org get-together to watch "Uncovered" video

30 or so of us congregated in Half Moon Bay to watch the video and get to know each other (33 pictures)

Jumpstart on Christmas

Christmas season is just beginning, send in your pictures! (4 pictures)

Thanksgiving at Panama City, Florida

Mom and Dad and Marianne descend on Linda and Gary, yet again. November 25 - December 1, 2003. (28 pictures)

Chamber Music Concert at Nina and Misha's

Chamber music in an intimate setting. November 22, 2003 (15 pictures)

Adventsingen

Christmas is nigh! Two wonderful photos of Mom and Dad dressed for Adventsingen. November, 2003 (2 pictures)

Housesitting

Housesitting for 3 little creatures, November 14-21, 2003 (4 pictures)

Big Sur Weekend

Big Sur is gorgeous and only two hours away. November 1-2, 2003 (12 pictures, chatty)

Linda and Gary at Halloween

The Fed meets Trinity, October 31, 2003 (1 picture)

Dinner at California Culinary Academy

A group of twelve of us met at the CCA for a feast. October 28, 2003 (7 pictures)

The Great Apartment-Warming Party

Cameos of some of the starring guests, October 25 (14 pictures)

Point Reyes, Marin county, California

Karin, John, Nika and Ian invited me to join them at Coast Camp, October 18-19, 2003. (30 pictures)

Yosemite Association day hikes

Lyell Canyon and Mono Lake, August 15, 2003 (35 pictures)
Glen Aulin, August 16, 2003 (20 pictures)
Mt. Conness, August 17, 2003 (8 pictures)

An afternoon at the beach, and a Sierra Club hike

Pescadero Beach and Higgins-Purisima ancient redwood, July 14 and 19, 2003 (6 pictures)

Rome, Italy

Introduction to Rome; Parthenon, July 3, 2003 (23 pictures)
St. Peter's, Spanish Steps and Trevi Fountain, July 4, 2003 (18 pictures)

Roman Forums, Colloseum, Piazza del Populo, July 5, 2003 (28 pictures)

More of the Forums, Smart cars, Catacomb story, Art Installation, July 6 - 8, 2003 (28 pictures)

Austria, June 23 - July 2, 2003

Gathering crowd in Kirchberg, Mittersil: June 23 - 25, 2003 (18 pictures)
Celebration's Eve, Kirchberg: June 26, 2003 (25 pictures)
The 50th Golden Wedding Anniversary Celebration: June 27, 2003 (49 pictures)
Schwester Auguste's 50th Anniversary Poem, in translation
The Day After: Getting Lost at the Castle, and Happy Reunion at the Beer Garden, June 28, 2003 (27 pictures)
Relaxing into the Country: June 29-30, 2003 (9 pictures)
The kids go hiking: July 1-2, 2003 (16 pictures)


The wild and wonderful 5- and 3-year olds of downtown Palo Alto. 5 pictures. June, 2003.

Kathi and Marianne go on a hike - just 3 quick pictures. June, 2003.

Laning Chateau, c'est moi

15 snapshots in and around Marianne's lovely new studio in downtown Palo Alto. June, 2003

6 shots sent up by Bill Egan, to commemorate the beginning of the big party of the year. May, 2003

Darlene and Marianne drop by Susan and Jorge's for a tea party. 4 pictures. April, 2003.

You need realplayer from www.real.one to view this. You can get a "free" 14 day trial, but they extract your credit card number first. And it's up to you to cancel before the 14 days is out, else they start charging $10/month.

A couple shots of Mom, Dad, Karen, Patrick & baby at the Ormond Beach, Florida Peace Vigil on March 16, 2003.
---
2002
A grab-bag of people pictures, including Christmas 2002 and New Year's Eve 2002/2003.

Panama City, 2002

Linda and Gary ride as Queen Mer and King Neptune in the Mardi Gras parade. And Linda and Gary re-tile and renovate the guest bathroom in an amazing effort!

Visiting Mannheim, January 2002

11 pictures, starting from Kirchberg and ending up in Mannheim. Snow and cold outside give way to the cozy comfort of Kathi and Rainer's apartment.
---
2001
53 shots, arranged strictly in alphabetical order, and not in any sort of chronological or logical order!

31 shots; Again, note that these arranged strictly in alphabetical order, so they jump around, so to speak.

25 shots, ranging from a visit to the Koeniger's to Christmas at the Pfarrhof in Kirchberg. Lots of proof of snow in Kirchberg!

7 pictures, mostly of the workshop project to put up the insulation!

Feast your eyes on 5 incredible photos of pumpkin carving by Rainer and Kathi!

Mom and Dad visit for 6 weeks in California, to help Marianne in her recovery from a rough summer. In the meantime, Dad prepares for the hot tub, and the hot tub materializes!

Mom, Dad and Marianne visit Tenaya Lodge, Wawona, the giant Sequoias, Tuolomne Meadows in upper Yosemite (8,000 feet) and Ahwanee Lodge, in a short but full and wonderful trip to Yosemite. September, 2001.

... to help Marianne get ready for Mom and Dad's visit. Linda cleans the whole house, Gary cleans the whole front and back porches and does a ton of yard work and cleans the garage to boot! The second day we visited Russian Ridge and Half Moon Bay, and the third day we visited the art and crafts fair up in the redwoods of Woodside.

Two shots of Linda and Gary, a couple of the ridge, and a whole bunch of shots of the beach at Half Moon Bay. Only ten pictures total!

Dad visits Marianne for a few weeks, to help her out in her nascent recovery of the difficult events of the summer. There are only 11 shots in this set.

The fire trail is my favorite walk - out the front door and up the hilly Winding Way and through the tree-filled canyon, and back. Or, come back along some side streets.

John Wharton goes to Fiji (small picture) to find bits of Mir, and John Markoff writes of it in the 24 April 2001 N.Y. Times. This copy is part of troutlily's public service media archive, since I don't trust I'll be able to find media articles online in a few years without having to pay! Therefore, we'll keep our own clippings.

2 lovely pictures of Verena, Kurt and Christa's little girl, from the time of Kathi and Rainer's wedding (May 2000)

Cathy visited us for a short but wonderful weekend in March 2001 (March 24-25)

Family from all over congregate on Houston: Kathi and Marianne from California, Mom and Dad from Florida, and Christian, Jill and Finlay from across town

The Rotary fundraiser was February 24, 2001; Kathi went as Princess Grace, and I as some vaguely elegant if plump socialite. In other excitement, we went down to Redwood City Honda and test drove the 2001 Honda Insight, a hybrid gas/electric vehicle selling for $20k and up.

The Mardi Gras Walking (Floating? or Flying?) Fish! From Linda.

Initial shots from Kathi's digital camera: Bunny Suit Kathi, the new Maytag Neptune Energy Star Washing Machine (the only thing in the house with more names than Annikin), and the girls all dressed up with only a Rotary fundraiser to go to
---
2000
Houstonites Skiing, December 2000

Mike, Peggie, Rachel and Ryan at Keystone, Colorado

Christmas 2000

Making decorations, getting a tree, and taking a walk in the woods: Big Basin State Park

Carnelian Bay, December 2000 -- not yet indexed

ski cabin and Lake Tahoe

Thanksgiving 2000

Thanksgiving in Panama City and a few shots of this skeptical auteur

Halloween 2000

Halloween and other autumn shots

Point Lobos, October 2000

Eight scenery-only shots of the surprisingly beautiful Point Lobos

Yosemite, October 2000

Photos from "Three Great Hikes" field seminar, put on by Yosemite Association.

Seagrass Monitoring, October 2000

Seagrasses and more in St. Andrew Bay:Linda and Gary are active in the effort to preserve and protect St. Andrew Bay and neighborhood. This page chronicles some of the efforts.

Summer2000 at Echo Lake, August 2000

Kathi & Rainer Wedding, May 26 and May 27, 2000
---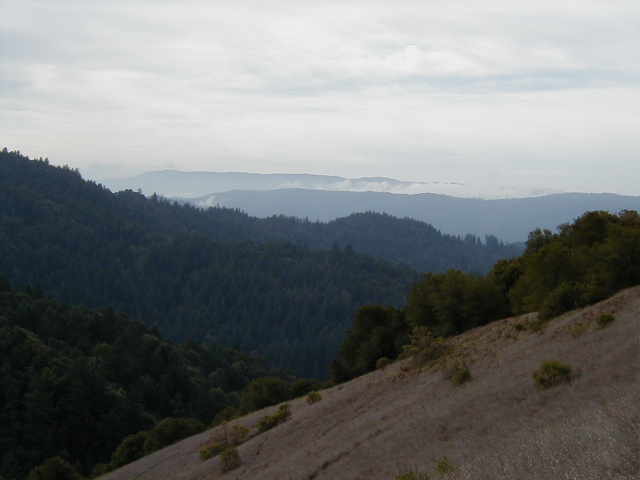 ---
Marianne Mueller